Bio & Contact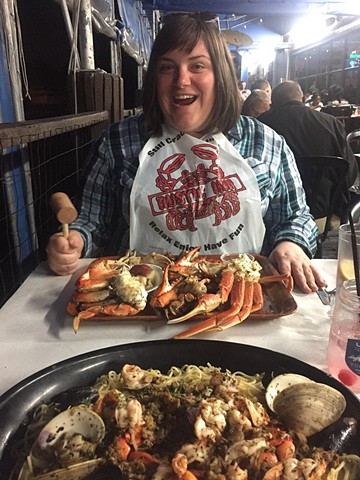 artistkristalabella@gmail.com
Please email for work inquires.
Subscribe to my mailing list!
Krista LaBella is a multi-media artist who embraces the voluptuous, fat, female body.
Krista LaBella received her BFA from Hartford Art School in 2010 and her MFA from Pratt Institute in 2014. She has been interviewed on "Art Uncovered" with Kimberly Ruth and is the recipient of an Upstart Award from the online women's magazine Bustle, where she was recognized as a noteworthy emerging female artist. Krista's work has been shown in galleries and museums across the United States including SPRING/BREAK NY's "IN EXCESS" with Equity Gallery and the Attleboro Arts Museum where juror Alex Castro wrote, "Instead of reinforcing oppressive bodily standards, the artist compels us to recognize her majesty, and all within a setting that looks as casual as it does art-historical. Titian's Venus never seemed this fierce." In September 2018 Krista's first solo exhibition "Fleshy Fruit" opened at Random Access Gallery at Syracuse University. Krista has been an artist in residence at the Vermont Studio Center in Johnson, Vermont and 77Art in Rutland, VT. She currently lives and maintains a studio in Brooklyn, NY.